Apparently there's fake news circulating about me. Today, I'm setting the record straight and sharing what I'll be up to in the near future.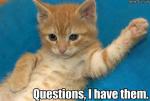 There's a rumor that I am no longer communicating with animals. Not true. I still do readings and it's simple enough to schedule a session on my website. I won't be traveling to venues to do mass readings nor doing any type of "fairs". Though I will continue to do readings, I won't be promoting that aspect of my business.
Here's what you can expect in the future.
Classes:
I am holding an Animal Communication Practicum (half day of communication practice) for anyone who has taken Animal Communication Level 1 with me. The class is December 2nd in Amherst, WI and I have one spot available ($50). After this class, I will not be offering the practicum again.
I'm considering offering one more Animal Communication Level 1 class but that will likely be the last, ever. Not just this year.
As soon as my book is in print (first of 2018), I will be teaching the content of the book. The Fractured Phoenix, Gifts from a Broken Childhood, is about the relationship between early childhood trauma and enhanced intuitive/psychic gifts. And "childhood trauma" doesn't necessarily mean sexual or physical abuse. We now understand that anxious parents, depressed parents, premature birth, illness, and many other ways in which an infant (or fetus) is neglected or subjected to stress can create an exceptionally sensitive, energy feeling, intuitive person. The book is part memoir, part "how to" for healing, managing being sensitive, and embracing your intuitive gifts.
Coaching:
I will continue to offer coaching/mentoring to support highly sensitive women and women who experienced early childhood trauma. My coaching supports you with energy management, emotional evolution, intuition development (including animal communication) and mindset training. Coaching is always tailored to your specific needs. You can schedule time to talk about this with me (no charge).
I also offer a couple of other opportunities to work with me one-on-one for specific issues you might be facing. A Ruby Slippers Session is a coaching session with added support and a personal intuitive reading by me. You can get support for a decision that you're struggling with by signing up for a Soul Quest Session.
Blog:
Going forward my articles will focus more on the content of my book though I may occasionally throw in something on animal wellness as it's hard to get me off that soap box.
I'm very excited about the book and the work it will bring forth. I intend to speak to groups of therapists, social workers and those who have experienced trauma. This has been a long time coming and my Soul is jumping for joy.
I'm so very grateful you have been on this journey with me.
Thank you for your support.