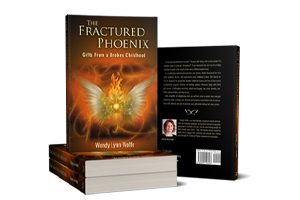 As a professional animal communicator and teacher, Wolfe discovered that her most naturally gifted students, like her, had experienced early childhood trauma. She shares her story to examine the connection between childhood trauma and how it may access and intensify empathic, intuitive and healing abilities. However, along with these gifts comes a challenging energetic sensitivity, which unmanaged, can create anxiety, overwhelm, physical illness and depression.
In this insightful and enlightening book, you will learn:
How to deal with those who violate your energy boundaries
How to harness your energy power .
How to manage emotions
How to communicate with animals
How to manage your empathic and intuitive sensitivities
How to embrace your gifts and take back your power.
Order Your Copy Today!
Get an autographed copy from Wendy!  Please provide the name you want Wendy to address in the notes when you checkout. $15 Price includes shipping to the 48 continental US states and tax.  Books ship out within 3 business days.  IMPORTANT:  To access your FREE Guided Animal Communication meditation, be sure to click on "RETURN TO MERCHANT" at the bottom of Paypal Checkout.
Amazon:
Available in paperback and Kindle versions.
Barnes & Noble:
Available in paperback.