In my 12 years of communicating with animals I have witnessed some pretty amazing moments but none really compare to the story I am sharing with you today.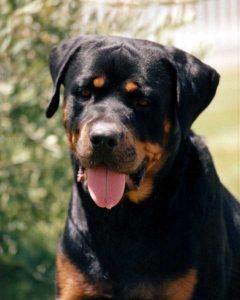 Many animals have told me that they are here to help us humans.  They help us in many ways including comforting our emotions, making us laugh, performing energy healing and leading us toward our souls' path.   Dogs and cats have been known to warn their humans of impending angina attacks and seizures, wake them when they stop breathing, save them from house fires and detect cancer.  Now I know first hand that they can also perform miracles.
I first communicated with Harley about eight months ago.  Harley was an 8 year old Rottweiler that had spent her life with her person, Kelly, and later her husband and their daughter.  Harley's "grandma" contacted me so that we could tell Harley that she would need to go live with someone else.  Kelly was very sick with leukemia.   All of the hospital visits and stays away would prevent them from being able to properly care for Harley.  When I talked with Harley, she was insistent that she needed to stay with Kelly; she needed to be there to help her heal.  I explained to her the situation and she reluctantly agreed to go live with her new person.  They had found her a very special home.
Last week I received an email from "grandma".  Harley's new person had called to let them know that Harley had begun to bump into things.  She took Harley to the vet and they discovered she had gone blind rather quickly.  Blood tests revealed Harley has leukemia.  Kelly is in remission.
When I connected with Harley today she shared that she indeed took on Kelly's illness so that she would be able to raise her daughter and live out her dreams. This is Harley's purpose.
From some of my previous conversations with animals I know that sometimes they can "take on" their person's energy (illness) without having it affect them physically.  They are able to disperse the energy rather than allow it to stay in their body.  Understanding this I asked Harley why she chose to allow this to stay in her body and make her ill.  She explained that she wants everyone to know that our companion animals do this for us all the time.  She wanted this message to be understood and so she took it on physically.  She wants us to know that our animals are here to HEAL us.
We often think we have rescued an animal but clearly, they are the ones doing the rescuing.
There is no love greater than this.
We are so blessed to live in the company of animals.
Anyone who thinks that we have dominion over the animals of this earth is sorely mistaken.
The animals are here to save us from ourselves.
Please share Harley's message.