How often does disappointment color your world?  Do you find yourself taken hostage by frustration or anger?  Do your unfulfilled wants spoil what's great in your life?
What if I shared with you a way to not be disappointed, to be free of frustration and anger? It sounds pretty good…maybe too good to be true.  And I don't want to sugar coat this; it's not that you will never feel disappointment, frustration or anger again.  Yet you can minimize these feelings significantly when you allow yourself to "let go".
When our ego is holding tightly onto an idea of what is supposed to happen in our life to be happy we block the circumstances our Soul would have us experience.  We fear the "unknown" and assume it won't be as good as our ego's idea.  In truth, our Soul will bring us more of what is truly needed in our life.  It takes faith and trust to let go of the ego and allow Spirit/God/Universe to guide us through our Soul.
Recently I've been given many opportunities to "let go" of my expectations, attachments and desires.  Though it's not necessarily "fun", I'm getting better at it.  As I let go, I am happier, more at ease and less anxious.
Since I bought my house two years ago I've been planning certain remodeling projects.  I bought the house understanding these changes would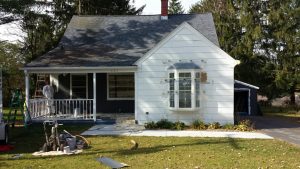 happen.  I expected them to happen in about the first 6 months.  Circumstances altered the time line.  Frustration set in.  Eventually I trusted and realized this was good.  The more I lived here the more my ideas about what needed to happen changed.  The delay was a good thing.
Finally this last July, it looked like all was set to go and then the contractor I chose couldn't start until October.  I experienced more frustration and more opportunity to let go.   Once again I trusted my belief that I am always supported by Spirit/God/Universe even though my ego (which sometimes resembles a four-year old) may feel differently.  I trusted there was a reason for the delay.
Next, my budget was cut, almost in half.  It was a crushing blow…for about 6 hours.  I called a few friends to whine and lament.  I cried.  Since I've observed myself in this process of setting myself up with expectation then feeling let down, I knew the quickest way out was meditation.  After about 30 minutes of heart centered meditation, I let go.  Shortly after several creative ideas came my way.
My mantra became "Find a Way". 
And I did.  I found several ways to get the essence of what I needed at half the cost.
Years ago this would have sent me into a long tailspin of resistance and resentment. What I've discovered over time and more intensely with this project is, when our ego holds onto an idea about what we need, things can get messed up.  When we release our expectations and trust Spirit/God/Universe, things work out in amazing ways.  Better than what our ego had in mind.
Despite the smaller budget, I realize I'm getting more of what I want.  For example, I love the character of this home.  It was built in the 40's and has immense charm.  Part of the budget cut was to go from total window replacement to window inserts.  The total replacement would have necessitated new interior trim on the windows.  I wasn't crazy about the idea because it meant losing the charming existing trim.  Now I save money and keep the charm.  There were several other benefits of the budget reduction.   I wanted new, maintenance free vinyl siding.  The new plan ditches the vinyl siding and instead I'm having the original hardboard siding painting.  And you know what?  It keeps the charm of the house, I get the exact color I want while using less resources.
Having less means appreciating more of what's important.
Sometimes we think we know what is best for us and the reality is our Soul knows better. 
And more letting go has been required.  Other items I thought "I must have" needed to go.  I've begun to see this as a game of detachment.  How quickly can I let go of the ego's hold and move into peace and gratitude with what is?
Here's my challenge to you. 
What outcomes in your life are you attached to?
What do you insist be a certain way?
What can you let go of by trusting Spirit/God/Universe has something far better in store for you?
Share below in the comments what you're ready to let go.